Rosacea is a poorly understood condition which is common and often troublesome. It is initially noticed with facial blushing with little provocation and which becomes more frequent, resulting in a persisting redness of the face.
There are dilated blood vessels on the facial skin, presenting as multiple small visible blood vessels (telangiectasia). There are also pustules and red nodules on the face.
The cheeks, nose and chin are most often affected and the redness shows up as a butterfly pattern, with the body being the nose and the wings being the cheeks. In a significant proportion of Rosacea sufferers, there is an ocular involvement, with gritty, sore and red eyes, often needing the care of an Ophthalmologist.
Rosacea, with its vascular expression, is often seen in fair females. While it is also present in men, it more often expresses itself as Rhinophyma, a thickening of the skin of the nose.
What causes Rosacea/Rhinophyma?
While the exact cause is unknown, it appears to be due to a combination of factors including genetics, the environment, blood vessels, inflammation and the use of oral or topical steroids.
Of these, the most favoured is that Rosacea is a functional disorder of superficial dermal blood vessels. This is usually a clinical diagnosis made by the presence of the sites and temp symptoms described under presentation.
Understanding the treatment options
As this is a chronic problem, treatment has to be over a lengthy period of time and multipronged. Avoiding factors that cause flushing of the face, protecting the skin from sun damage and to keep exposure to cosmetics and sunscreens to regularly used and well-tolerated products.
Oral Antibiotics
Tetracycline including Doxycycline and Minocycline are commonly used to treat Rosacea. Treatment is for 6 to 12 weeks, helps to reduce redness, papules, pustules and eye symptoms Often multiple further courses of antibiotics are needed.
Topical Treatment
A range of products are available but have limited effects and often cease to be of use after repeated exposures.
Intense Pulsed Light Treatment (IPL) Treatment of Rosacea
First introduced in the mid-90s, this has revolutionised the treatment of Rosacea, with excellent, reproducible and long-lasting results. An IPL works like a laser, in that the broad-spectrum pulse of light causes PhotoThermoLysis, ie the Light (photo) produces Heat (Thermo) which Destroys (lysis).
The IPL has a spectral range of visible light from 500 to 1200 nm and targets specific structures and chromophores such as melanin in hair and oxyhaemoglobin in blood vessels. IPL treatment is very effective for vascular problems and hence Rosacea is well treated with IPL.
A blood vessel has three layers – an inner glass-smooth endothelium, a middle muscle layer and an outer connective tissue layer. The glass-smooth endothelium allows blood to flow through vessels without clotting.
When this endothelium is damaged, as in an injury, a cascade of coagulation factors are released which cause a clot to prevent blood flow through the vessel. In the treatment of Rosacea, multiple such vessel clotting causes a reduction in the number of visible blood vessels, leading to a very significant improvement in appearance.
Carbon Dioxide Laser Treatment of Rhinophyma
This is a hyperplastic, glandular variant of Rosacea caused by overactivity of the sebaceous glands in the dermis of the skin. This is often preceded by the more typical signs and symptoms of Rosacea and tends to appear in middle age, more often or more severe in men.
The initial presentation of Rhinophyma is that of slightly thickened and uneven nasal skin. Closer examination shows sebaceous deposits in the dermis showing itself through the epidermis.
This is often well tolerated and no treatment is sought in the majority of those with the problem and is often diagnosed when being examined for other skin problems on the nose.
However, in a percentage of patients, most often in men, the thickening of the skin and sebaceous gland overactivity can continue developing, resulting in gross thickening of the nasal skin, with multiple nodules.
In exceptional circumstances, this sebaceous hypertrophy reaches extreme limits, with gross enlargement and distortion of the nose, causing significant social problems.
Why choose PCLS Coffs Harbour?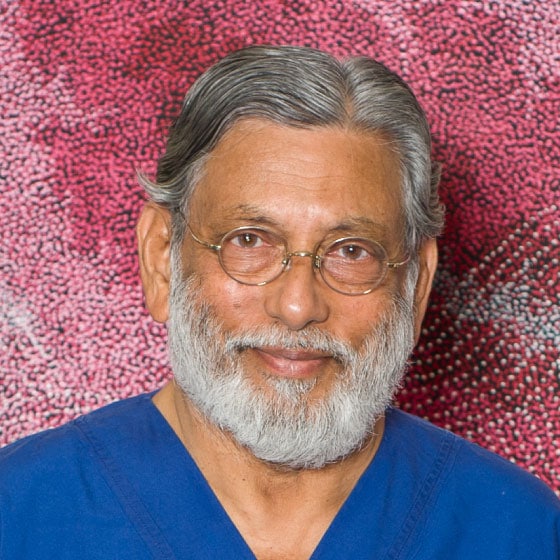 Dr Chandran Arianayagam is an internationally trained Specialist Plastic Surgeon. Based in Coffs Harbour since January 1995, he has trained and worked in India, Malaysia, the United Kingdom, United States and Australia. He brings 30 years of experience and expertise to the Mid-North Coast region.
His experience includes operating and observing in Australia, India, Canada, Malaysia, the United Kingdom and the United States, with a list of qualifications including:
Once you have made the decision to go ahead with the surgery, you also are offered the opportunity to speak to one of our patients who has undergone the same procedure.
Dr Arianayagam places great importance on successful outcomes and the complete comfort of his patients which is why at least two consultations prior to treatment are required. The team at PCLS Coffs Harbour offer outstanding levels of care, both in-patient and post-operative.
Frequently Asked Questions
The results are dramatic, both in terms of appearance, as well as in the more advanced cases, social rehabilitation. Patients are extremely impressed and gratified with the results of treatment with the Carbon Dioxide Laser. This treatment has been available in my practice for the last 25 years and I do have a large number of very satisfied and happy patients.
4 to 6 sessions of treatment at 2 to 3 weekly intervals is required. Each session lasts up to 30 minutes and there is no downtime and the skin that is treated is left intact. The results are impressive in appearance and in the length of time that the improvements last, up to 5 to 7 years, before a repeat treatment is required.
Locations that provide for consultation
Regional Clinics
Rockvale Cardiac Centre, 18 Rockvale Road, Armidale, NSW
Duke Street Medical Centre, 9 Duke Street, Grafton, NSW
Barton Lane Medical Practice, 121 Johnson Street, Tamworth, NSW
3 Highfields Circuit, Port Macquarie, NSW 2444
PCLS offer several locations for consultation, all with a high-level of patient care from our skilled and knowledgeable team. The PCLS Coffs Harbour staff are with you from before your procedure, right through every step of your recovery process.
Speak to us about your care plan via the following PCLS locations:
To schedule a private consultation with Dr Arianayagam please call the office or request an appointment online